Artwork
How do I submit multiple artworks for a single ShockWave Print order?
At this time, ShockWave Print can only accept one artwork file per job. Please create one job per artwork you intend to submit. This can be done quickly in the shopping cart by selecting "Duplicate this job".
What file types does ShockWave Print accept?
We only accept these file formats: JPG, PDF and EPS (single page)
Please make sure your artwork size is the same exact size of your order. Also,do not include any bleed or crop marks.
What file specifications does ShockWave Print recommend for fast processing?
We accept JPG and single page PDF. We suggest 150 dpi resolution at 100% of the final print size. Also do not include any bleed or crop marks.
Should I include any fonts with my files?
NO. Instead, please ensure that all fonts are outlined prior to file upload. If you are using Photoshop, please provide flattened file only.
Do I need bleed or crop marks for my files?
No bleed or crop marks. Make your artwork match the size requested on the order. We are not responsible for crop marks or registration printed.
My artwork file contains transparency, will it print ok?
No, it is always best to flatten any file you send to ShockWave Print. ShockWave Print considers flattening transparency part of basic file setup and will not check for this issue.
What is the difference between raster and vector?
Raster-based artwork such as photos or flattened artwork (from Adobe Photoshop) are made up of tiny squares (pixels), and depending on your resolution and/or final output size desired, the file could have a low quality end result. Any raster elements you wish to use should have a high enough resolution (DPI) before considering them for your large format product.
Vector-based artwork such as illustrations or clip-art style elements (from Adobe Illustrator) is made with mathematical calculations, and can be scaled up to any size without losing quality. Keep in mind that any effects used in Adobe Illustrator are raster-based and have transparency: this greatly adds to file size and you must have correct settings in your "Document Raster Effects Settings" to ensure best output for these effects. If you are doing a photo-quality print on a 36″ x 48″ poster, and leave the raster effects settings at default 72 DPI – you may see tiny squares in your drop shadows, as opposed to a smooth shadow.
What is overprint, and how can it ruin my file?
Overprint is used to intentionally overlap inks for a number of reasons. We suggest that you turn all overprint objects off before submitting, for it may cause unexpected results.
What settings should I create my PDF in Adobe Illustrator?
For Illustrator CS2 and above it is recommended to use the "High Quality Print" preset.
How do I create a smooth gradient?
When creating gradients in your artwork, we highly suggest creating those gradients in Photoshop, and not in Illustrator. the reason being, is that Illustrator is a vector based program and doesn't raster the gradient the same way Photoshop does, and it will create "Steps" in the gradient that look like lines in the final print. The only way to cure this is to create the gradients in Photoshop and then either import the gradient into illustrator, or just completely design the artwork within Photoshop. Please see the attached photos, you can see how much smoother the gradient is in the Photoshop image vs the Illustrator image.
General
Do you color match?
We do not color match.
Do you print using any Spot or Pantone colors at ShockWave Print?
We only print 4 color process (CMYK). If you use Spot or Pantone colors, please have them converted to process colors prior to file upload.
What size are your grommets?
We use #2 grommets, which are approximately 3/8". Grommets are placed every 2′ standard.
Explanation for turnaround service
Turnaround time begins once your file is uploaded.
If your file is placed on hold, the turnaround time will begin once you select 'Run As Is' or once a re-uploaded file is received.
If an email design proof is requested, the turnaround time will begin once you approve the design proof.
All the times are based on normal business days, Monday through Friday, excluding federal holidays. Please note this does not include shipping time.
If an order is uploaded on a business day BEFORE 12 noon PST the turnaround time starts to count from the day it was submitted. If an order is uploaded on a business day AFTER 12 noon PST the turnaround time starts to count on the following business day. For orders submitted during the weekend or holidays the turn around time starts to count on the following business day.

Why do you have a minimum charge per item?
While we offer competitive pricing, we have to account for production and labor costs for each job.
There is $10 minimum charge per item site wide.
Order cancellation
An order can be canceled at any time prior to it entering into production. To cancel please log in to our website to view your order details and click cancel print job. If you do not see a button for cancellation, the job has gone into production and cannot be canceled.
Why does it take so long to upload files?
Your file size and your network connection are the two main factors affecting upload speed. Another way to ensure your file gets uploaded in a timely manner is flattening your files.
What is the recommended font size for my banner or sign to be viewed from a distance?
This depends on what the final output size will be, and its viewing distance.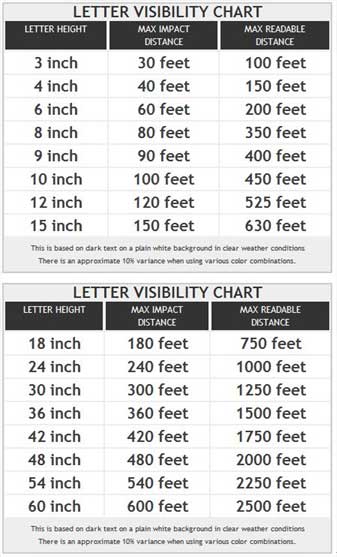 Do you offer hemmed edges?
Yes, we do.
Is there any maintenance or cleaning required?
The best method of cleaning your outdoor vinyl banner is to lay it flat (if possible) on a clean area, table or floor. It is recommended that you use a mild dishwashing liquid and warm water to rinse. Do not use any harsh abrasive or petroleum type cleaners. Clean and dry each side before storing. You must ensure it is completely dry prior to roll up and storage. Place your banner back in box and store it flat, not vertical. If it is standing up vertically, it may wilt and warp causing wrinkles over time.
Why is ink chipping off?
The reason you might have chipping on some edges of your product is most likely due to the heavy ink coverage that you used in your artwork. Once your prints are cut down, there are chances that if you used dark colors at the cut lines – there will be some chipping that occurs after the cutting process.
Should I scale down my artwork?
It is not always necessary to scale your artwork down but here are a few good things to know
Vector Art
Is your file be over 200″? If yes you will want to scale it down to 50%. While Illustrator has a maximum artboard size nearly 228″. Acrobat and others will only read up to 200″ resulting in lost artwork. So while the artwork looks ok in Illustrator, it will not print correctly.
Raster Art
Will your file be over 30,000 pixels along either axis? If yes you will need to reduce the resolution of the file to reduce the overall file size to 30,000 or less. This will maintain the correct file size and aspect ratio. Don't be worried about losing quality. A 30,000 pixel document at 150dpi is nearly 16′ and would not be viewed close up anyway.
Reprint/Return Policy
If there is any issue with your order you must report the problem within 5 business days after the delivery date. Please call us and a representative will assist. If you do not contact us with in that time frame we will assume that your job was correct at the time of receipt.
The following are some guidelines and examples of issues that do not constitute grounds for a refund, or a return or reprint of a product:
An order that is refused at time of delivery or undeliverable orders. (We will reship the product at the customer's expense if requested).
The product is lost, delayed or returned to ShockWave Print due to an error made by the customer in submitting the proper shipping address. (For product that is later found or that is returned to us we will reship the package with a corrected address and charge an additional shipping fee for the shipment).
Product that is delayed in production and/or shipping as a result of the customer providing inaccurate information.
Product that incurs a higher shipping charge as a result of the customer providing inaccurate information.
Product that is delayed in production and/or shipping as a result of shipping company delays, acts of God, weather conditions, environmental or dangerous goods incidents, perils of the air, public enemies, public authorities acting with actual or apparent authority, acts or omissions of customs officials, authority of law, quarantine, riots, strikes, work stoppages or slowdowns, or other labor disputes or disturbances, civil commotions or hazards incident to a state of war, local or national disruptions in ground or air transportation networks or systems due to events beyond our control, disruption or failure of communication and information systems, disruption or failure of utilities, international customs issues, and any other circumstances that are beyond our direct control.
Errors that are contained in the uploaded customer file, e.g., misspelling, graphics, grammar, damaged fonts, punctuation, die lines, transparency, overprint, and finished product size. ShockWave Print does not any changes on customer files.
Product that experiences print or images that are fuzzy, pixilated or otherwise distorted as a result of the customer providing artwork that is not at a minimum of 150 DPI at 1:1 ratio (or 100%) and/or in CMYK mode.
Products that do not exactly match color or ink density. ShockWave Print does not color match or match customer specified ink density.
Orders that are duplicated as a result of customer error.
Orders that are canceled after the order has entered into production (or any process thereafter).
Orders that contain dated materials that arrive after the relevant date or with insufficient time to use the material as intended. It is a customer's responsibility to allow sufficient time when placing an order for time sensitive materials.
Our failure to notify you of any delay, loss or damage in connection with your printed products or shipment or any inaccuracy in such notice.
The release of an order by the shipper without obtaining a signature.
Order Approval/ Proofing
ShockWave Print has and assumes no obligation to proof or otherwise review the content or layout of your order. Even if a ShockWave Print customer service representative has inquired as to the attributes of one of your prior orders, you are not entitled nor should you assume that ShockWave Print will review any other order you place. Orders are printed in their "as submitted" form and the customer is fully responsible for final proof and layout verification and approval prior to submission to the print process. ShockWave Print DOES NOT make any changes on customer files. Once you submit an order to the print process you are agreeing that you are fully satisfied with the document layout and content and you accept responsibility for any errors therein. ShockWave Print will assume that you have verified the spelling, grammar, content and layout, etc. are all correct and it will not accept any liability for errors such as misspelling, grammar, damaged fonts, punctuation, transparency, overprint, improper layout, die lines or, sizing, etc.
ShockWave Print does not provide proofs of any order unless the customer requests it as part of the order process and it is an option available for the product.If you request a proof then it is your responsibility to verify the proof against the original (and to correct any spelling or grammatical errors, etc).
If a proof is requested, then your job will not be processed or deemed production ready until you have approved the proof in writing. Please be aware that this may impact the job turnaround time.
Do you print white?
We do not currently print white ink.
Am I able to do a size change after my order has been placed?
Unfortunately we are not able to modify your order's size details. Please cancel your existing order and place a new order with the size desired.
Are you able to print banners to the exact dimensions requested?
Depending on the size of your banner, you may receive a banner that is slightly shorter in length. Unfortunately, we can not guarantee exact dimensions due to the nature of large format printing process, where print heating/drying and media roll advancement may be factors in the result of your final banner print size.
Can exact measurements be cut for all products?
Because of the different materials used and the finishing of our products, there is no guarantee for exact measurements of your order. There can be a very small percentage that could be off because of this reason. We do our due diligence to make each product exact to the size requested, but there could be a small measurement that could be off because of the production finishing or material of your order.
What if I forgot to upload artwork after ordered?
Artwork submitted 30 days after order was placed will not be updated.
In this case please contact us
Do I need special Banner finishing?
Weather you are ordering a street banner, large banner, or a long time use banner it is suggested to have the following additional finishing options selected:
Webbing
Reinforced Corners
In addition to the finishing options it is suggested all grommets to be used upon installation
Shipping
Custom Flag maintenance disclosure
In order to ensure the longevity of your flag and to honor any future claims we recommend the following maintenance be preformed.
When installing the flag it is recommended at least two people are used to set the flag up to prevent any damage to the flag or hardware.
Ensure all bearings are properly lubricated prior to the first use of the flag, and well lubricated thereafter to ensure rust doesn't accumulate in or around the hardware. Lubricants such as
WD-40 will be sufficient.
Bring flag and hardware inside every night and upon rain or heavy wind.
Flags are not meant to withstand extreme weather conditions and should not be left outside for extended periods of time.
The flag should be placed in a location where it can move freely without coming into contact with objects such as trees, fences, walls, buildings etc. It is possible the flag may be scratched, ripped or damaged if it does come into contact with any objects.
Thank you for your cooperation and understanding.
How will you ship my banners and signs?
All ShockWave Print products will be shipped using UPS. Due to some restrictions set forth by UPS, we have taken measures to ensure competitive shipping rates.
All banners 96″ and under on their shortest side will be rolled and shipped in standard corrugated boxes. All banners over 96″ on their shortest side will be folded and shipped in a square box.
All other ShockWave Print orders will be boxed and shipped according to their size. Other special shipping request, please call us.
How come you don't offer shipping on large rigid signs?
At this moment, sizes over 3′ 10″x3′ 2″ are only available for Store Pickup. We currently are not able to ship sizes larger than 3′ 10″x3′ 2″.
Can I ship your products on my shipping account?
Please contact us for more info.
Do you offer same day service?
Unfortunately we don't offer same day service at this time.
Can I upgrade my shipping?
Yes, you can. However, you must upgrade your shipping before 12 noon PST on the day your job will ship out. Please call us to upgrade.
Can I change my order from store pickup to shipping?
At the moment we don't offer store pickup. All orders will be shipped.
Does ShockWave Print offer group shipping?
Group shipping is available for jobs which have same/matching materials, Turnaround time, shipping address, shipping method, and same order.
Group shipping discounts are applied to items with shipping fees of Lesser Value.
Note: If you decide to cancel the item with the highest shipping fee value within a group ship, your group shipping discount will vary. And we cannot combine items from different orders.
Why is my shipping charge high?
Due to the large physical size of products some orders may have higher than expected shipping charges. Unfortunately there is little of what we can do as we are bound by the limitations set forth by our shipper, in this case UPS.
How come my order shipment is taking longer than expected?
Orders shipping via UPS Ground may take 1-5 business days in transit depending on your location. Weekends, holidays, and observance days do not count as transit days.
Note: We are not liable for late shipments due to UPS exceptions, such as bad weather conditions. If you received a late package and would like to be considered for a shipping refund, please notify us. We will contact UPS to see if a reimbursement is possible, however it is not guaranteed.
Where is your store pickup location?
In order to keep the prices low we don't offer pick up at this time. All orders will be shipped.